At the core of Academy Prep is a rigorous academic program. Students take English, math, science, and history daily 5th-8th grade. While many students begin 1-2 grade levels behind, most graduate 1-2 grade levels ahead!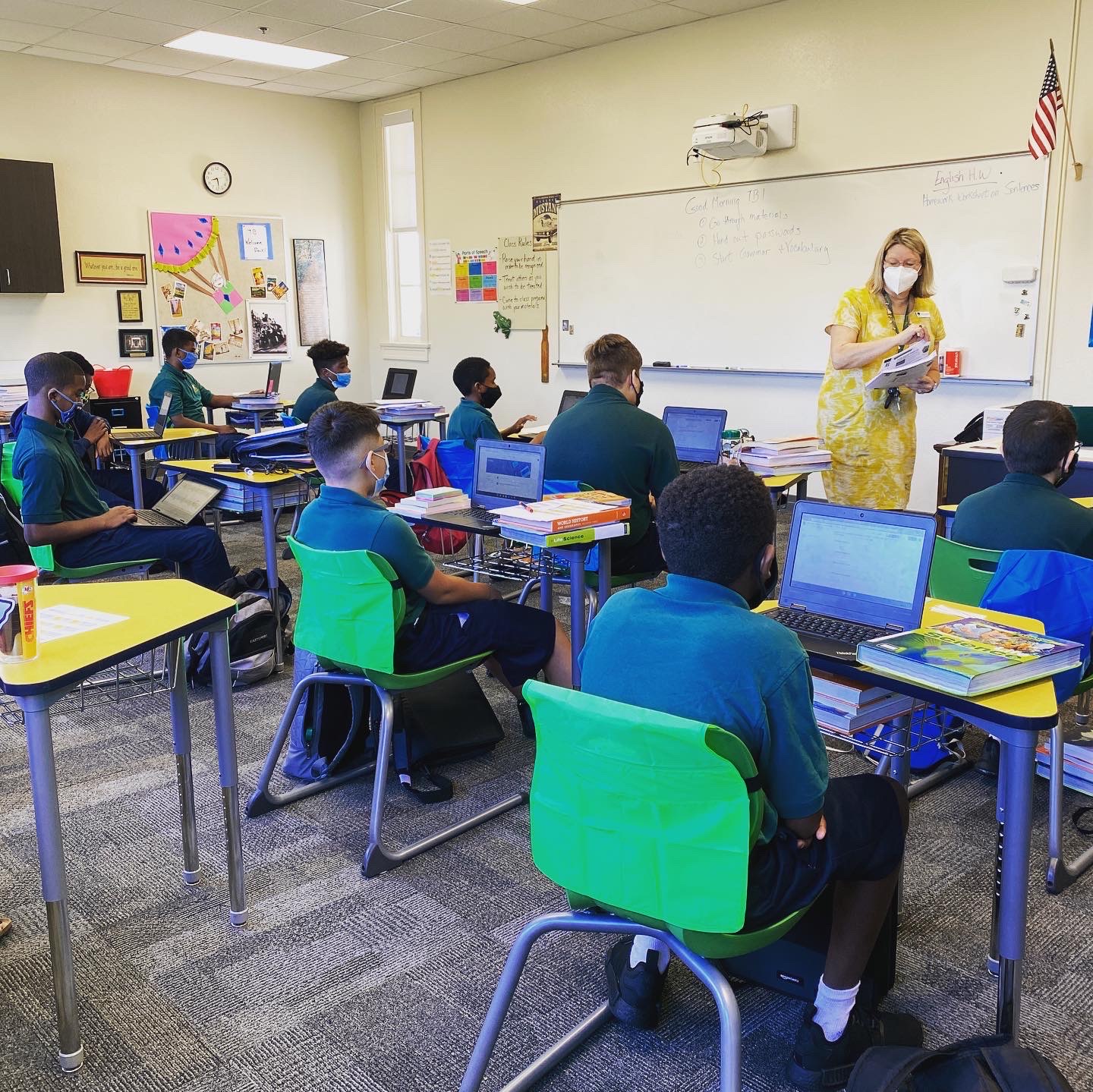 The English curriculum takes a classical approach, emphasizing writing, grammar, vocabulary, and spelling. Students read at least one novel each grading period through their English coursework.
Outside of daily English classes, students also participate in a weekly reading class. This course encourages reading for pleasure and enhances students' vocabulary.
The math curriculum sets the groundwork for higher level mathematics coursework in high school and college. A heavy emphasis is placed on providing remediation in 5th and 6th grade to ensure students are prepared for pre-algebra in 7th grade and algebra in 8th grade.
Small group tutoring sessions along with differentiated instruction make all the difference for our students in implementing a math program in which every 8th grader takes algebra.
Middle school students are naturally inquisitive, and the science program focuses on encouraging and fostering this! Students gain a solid footing in both physical and natural sciences through a high quality program centered around lab experiments.
In 7th and 8th grade all students participate in the school wide science fair, which encourages students to develop their own experiment and follow it through utilizing the scientific method.
The history curriculum seeks to foster students who strive to become community leaders and responsible citizens, with a strong appreciation and understanding of others.
Students study American history in 5th and 8th grade. Coursework in 5th grade begins with the study of native peoples. Emphasis is placed on the first half of American history; the building of our nation through the Civil War. This study picks up again in 8th grade when students focus on modern American history. The Civil War is covered once more, but an emphasis is placed on understanding our nation's role in global events in the 20th and 21st centuries.
World history and modern geography are studied in 6th and 7th grade. Students begin 6th grade with the study of cave men and end the year with the Middle Ages. They pick up with the Renaissance in 7th grade and typically conclude their studies with the turn of the 20th century.