Academy Prep Center of Lakeland offers a fifth through eighth grade middle school program designed to help children who qualify for need-based scholarships excel in their studies and develop the skills and confidence vital to compete and succeed as adults. Students are strongly encouraged to enter at the fifth grade level, thus ensuring that they have the full benefit of the program. Students are also admitted at the 6th grade level, though it is far more competitive to enter at this level.
If you are interested in applying to Academy Prep Center of Lakeland, please fill out the online inquiry form.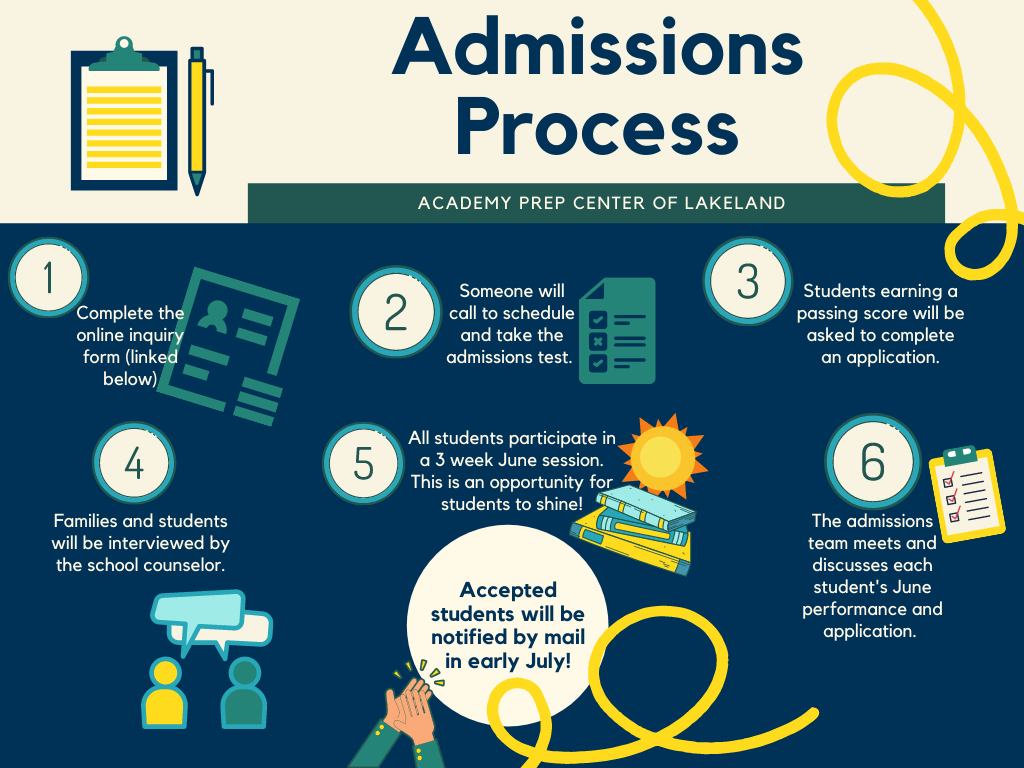 To be eligible to attend Academy Prep, a student must:

- Qualify for need based scholarships.
- Show on an admission test at least the basic ability to succeed academically.
- Demonstrate the character to be a good citizen of the school and of the general community.
- Demonstrate a commitment to succeed through the summer session.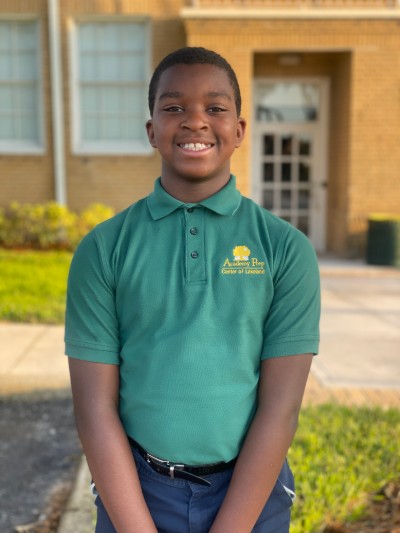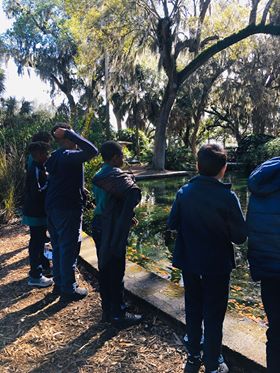 The Admissions Process:

1. A student must pass (at least 60%) an Academy Prep admissions test covering basic grade level reading, vocabulary, spelling, and math.

2. A student must have a Step Up For Students (SUFS) scholarship award (there is no fee to apply). Families who qualify for the Federal Free or Reduced Price School Meals Program will also qualify for a SUFS scholarship.

3. Only students who pass the Academy Prep admissions test will be given a school application.

4. Once a completed school application has been carefully reviewed, students with the strongest potential will be invited to attend Academy Prep's three week summer session and have an interview with the school counselor, Dr. Foster. Summer attendance (June 7 – June 25, 2021) is mandatory for all Academy Prep students. The summer session is an abbreviated version of the regular school session that combines academic study with indoor and outdoor enrichment and educational activities. The summer session affords new families the opportunity to "try out" Academy Prep and to fully understand the school's expectations for its students. Additionally, Academy Prep faculty and staff are looking to see that students show a desire to learn and to comport themselves in a manner that is respectful to their peers and their teachers.

5. Students who demonstrate the greatest commitment to succeed during the summer session will be invited to join the regular fall term that starts in August.

What happens if my student passes the test?

1. You will be asked to apply for the Step Up For Students (SUFS) scholarship.
2. You will complete an application packet provided by Academy Prep. (This includes a required teacher recommendation.)
3. After a full review of the application, you may then be invited to participate in our summer session.
4. You will schedule an interview with the School Counselor, Dr. Foster.
5. Your child's academic and social progress during the summer session will be assessed for final admission for the fall term.
All students admitted to Academy Prep Center of Lakeland receive need-based tuition scholarships. Scholarships are obtained through
Step Up For Students (SUFS)
.
Every new Academy Prep student must have a SUFS scholarship to be enrolled in the regular fall term starting in August. There is no fee to apply for a scholarship. Please visit the website by clicking on the scholarship link above (blue) to get started. The scholarship website will open in a new tab.